A truly great vegan salad is one of my favorite things and this Lentil Salad with Fresh Herbs is no exception!
It begins by tossing perfectly cooked French lentils in a zesty and aromatic dressing made from shallots, garlic, pine nuts, lemon zest, and a handful of other simple ingredients. The lentils are then tossed with a medley of fresh herbs and arugula to bulk up the salad, making it the perfect light lunch or satisfying side dish.
But let's be honest, there is no wrong time to enjoy this vegan lentil salad. It's hearty and filling, so you can even enjoy it during the cold depths of winter, but it's also packed with the kind of sunshine you expect from a summer dish.
Table of Contents:
1. Why this recipe works
2. Ingredient notes
3. Step-by-step instructions
4. Tips for making this recipe
5. Flavor variations
6. Frequently Asked Questions
7. Recipe card with notes
Why this recipe works
Incredible flavors, but secretly hearty and wholesome
This lentil salad is the kind of lunch that you look forward to all day. There are so many great flavors to enjoy thanks to the medley of gently fried shallots and garlic, lemon zest, toasted nuts, and fresh herbs.
Another reason why this salad is perfect for lunches? It'll give you a boost of energy! The wholesome ingredients are packed with plant-based protein, fiber, and essential vitamins and minerals, leaving you feeling full but not weighed down or tired.
The ultimate versatile salad
Have fun with this one! The ingredients and flavors are versatile and can be customized to suit everyone's tastes and preferences. Experiment with different types of herbs and salad greens, adjust the amount of heat and acidity, and add or omit ingredients to make it your own. The options are endless!
A 30-minute dish
Keep this lentil salad recipe in your back pocket whenever you need a quick and easy weeknight meal or vegan meal prep idea. It takes 30 minutes from start to finish, and no fancy cooking methods or tools are needed.
Ingredient notes
French green lentils
Also known as "puy lentils,", French green lentils are smaller than your standard green or brown lentils and have a bluish-green color. They hold their shape well as they boil and have a tender, yet firm texture when they're done. This is exactly what you want when you're making a lentil salad–no mushiness here!
Substitute: Black beluga lentils are the next best option if you can't find French lentils. And if you can't find either, use green or brown lentils but only cook them until al dente to avoid a mushy salad. 
Shallots and garlic
These two classic aromatics are sautéed along with the nuts, delivering a savory and subtle sweet depth of flavor and complexity in every bite. 
Substitute: Substitute the shallot with half of a small or medium red onion.
Toasted Nuts
Toasted nuts are a show-stopper in this salad. Their natural flavors are enhanced as they toast in the pan with the shallots and garlic, infusing the salad with a beautiful nuttiness. The slight crunch they bring adds a nice textural dimension, too.
I'm a sucker for pine nuts in this salad because they bring this seriously amazing buttery mouthfeel and rich flavor. But, I get it, they're pricey (they're slow to grow and difficult to harvest)! Luckily, this lentil salad is delicious with other nuts, like toasted almonds, pistachios, walnuts, or cashews.
Nut allergy? Use a mixture of toasted pepitas and sunflower seeds, or even sesame seeds. 
Seasonings 
A combination of lemon zest, chile flakes, and flaky sea salt gives this salad a zesty kick that is both bright and refreshing.
Herbs 
A blend of soft fresh herbs brings freshness, flavor, and dimension. I used a mixture of parsley, basil, and mint but the options are flexible; use only one or two herbs, like dill and parsley or cilantro and mint.
Arugula
Leafy greens bulk up the salad while sneaking brain, skin, and gut-healthy nutrients into your diet. 
Substitute: You can use any other salad green instead of arugula, such as baby kale or watercress.
Step-by-step instructions
To cook the lentils, bring a saucepan full of salted water to a boil, then add the lentils, bay leaf, and freshly cracked pepper.
Simmer until the lentils are al dente, then drain. 
Meanwhile, saute the shallots and garlic over medium heat. Cook until the shallots are just starting to get some color. 
Add the pine nuts to the pan. The heat will bring out their natural oils, bringing a beautiful nutty flavor to the salad that you wouldn't get from raw nuts. 
Now stir in the lemon zest, chile flakes, and flaky salt. Toss for 30 seconds, then transfer the mixture to a bowl to prevent them from cooking further.
While the lentils are cooking, chop the fresh herbs.
Add the cooked lentils to the bowl with the aromatic oil. Toss with salt and pepper, then add the vinegar, lemon juice, and fresh herbs. Toss it all together and adjust the flavor to your taste.
To finish, add the fresh arugula and use tongs to incorporate them into the lentil salad. Season with a little salt and pepper as needed, then serve!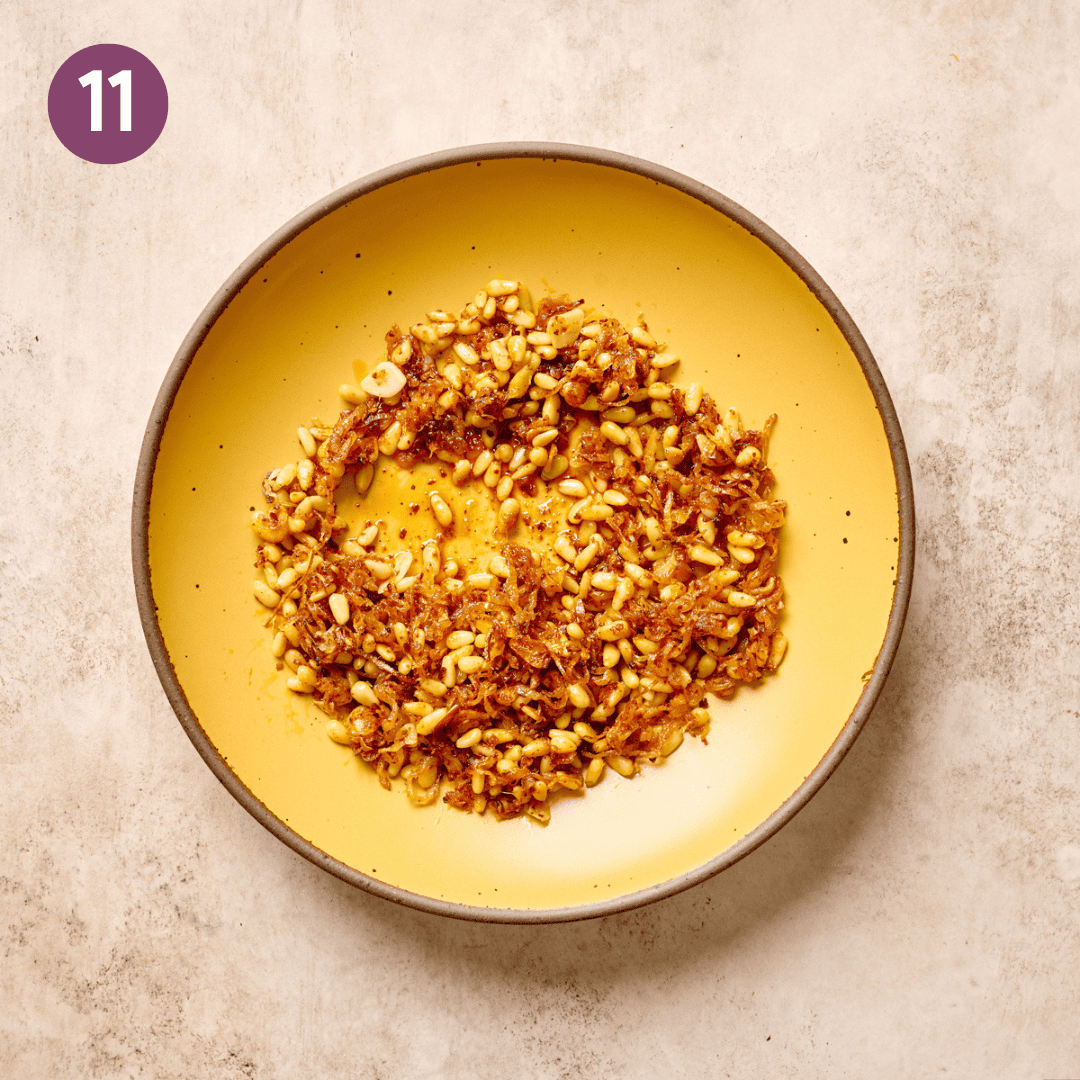 Tips for making this recipe
Fresh herbs have the best flavor
Don't discount the importance of fresh herbs in this salad! They're the star of the show, offering an abundance of fresh flavors and color, as well as textural and flavor nuance. Dried herbs do not offer the same level of refreshment and shouldn't be used raw/uncooked, so save them for another recipe.
Add more flavor to the lentils
As I mention in my YouTube video, 3 Delicious Lentil Recipes, one of my favorite ways to infuse more flavor into cooked lentils is to add flavoring agents to the boiling water. Salted water along with a bay leaf does the trick in this recipe, but feel free to get creative. You can also use chopped shallots, black pepper, fresh thyme or rosemary, carrots, celery, or garlic cloves.
Don't overcook the lentils
In other words, don't walk away from the pot. Keep an eye on the lentils and only boil them until they're al dente (tender but with a bite). You don't want them to be too soft and certainly not mushy, or else the lentils will get a little mushy. 
Time-saving tip: Dried puy lentils typically take between 20 to 25 minutes to cook in a pot of boiling water. If time is of the essence, you can cook them in the Instant Pot instead. They're ready in about 6 minutes and stay nice and firm.
Add the greens at the end
Give the lemon and herb-dressed lentils a few minutes to cool before tossing them with the salad greens. This way, the heat of the cooked lentils won't cause the arugula to wilt.
Flavor variations
Don't be afraid to adjust the seasonings to your liking here:
For a spicier flavor, add more Aleppo pepper or red pepper flakes. For the mildest heat, use just a pinch.
Cut down on the acidity by using less lemon juice or vinegar.
Substitute the champagne vinegar for red wine vinegar, apple cider vinegar, more lemon juice, or any type of vinegar you prefer. Distilled white vinegar also works but use less (½ to 1 tablespoon), as it's harsher in flavor. 
Use any variation of soft fresh herbs in this recipe, like parsley, dill, mint, cilantro, or basil.
Swap the arugula for your favorite salad greens, such as spinach, lacinato kale, watercress, mesclun, or romaine. 
Bulk it up with more vegetables, like roasted sweet potatoes or cauliflower, or shaved carrot ribbons or sliced cherry tomatoes.
Jazz up the flavor with a drizzle of basil pesto or a spoonful of tzatziki or tahini sauce. 
Remember: As you're making the salad and playing with any new flavors, taste as you go and continue to make adjustments until you find your perfect balance.
Frequently Asked Questions
What goes well with a lentil salad?
You can be creative when thinking about how to serve lentil salad. For a healthy and filling meal, pair it seeded multigrain bread or sturdy crackers for scooping. You can even scoop the lentils and greens over a creamy dip, like homemade hummus or the lemon yogurt sauce from my Broccoli and Za'atar Chickpeas recipe.
Can I make this salad with canned lentils?
You can use canned lentils if you're short on time, but cooking dried lentils yourself is the way to go when it comes to achieving the best flavor and texture. 
Can I make this lentil salad ahead of time?
Yes, the lentils and aromatic oil can be made ahead of time and stored in separate containers in the fridge. When it's time to serve, toss them together along with the fresh herbs and arugula.
How do you store the leftovers?
Transfer the leftover salad to an airtight container and store it in the fridge. It will stay fresh for 3 to 4 days.
If you love this Lentil Salad with Fresh Herbs, please be sure to leave a rating and review below! It's always much appreciated :) And tag me on Instagram – I love seeing your feedback!
This Lentil Salad with Fresh Herbs is a hearty dish that's easy to make for lunches, dinners, and side dishes! Tender lentils are dressed in an aromatic oil, then tossed with lemon, fresh herbs, toasted nuts, and arugula. It's a 30-minute meal that's bursting with refreshing and mouth-watering flavors!
Cook the lentils. Fill a medium saucepan with water and generously salt, as you would salt cooking water for pasta. Once the water is boiling, add the lentils, bay leaf, and a few rounds of black pepper.

Reduce the heat to simmer and maintain a simmer for 20 to 23 minutes, or until the lentils are al dente (tender but with a bite). When the lentils are al dente, drain them over a colander and discard the bay leaf. Shake the colander a few times to get rid of water.

While the lentils cook, heat the olive oil in a large frying pan over medium heat. Once warm, add the shallots and garlic with a pinch of salt. Cook for 3 minutes, or until shallots are just starting to get some color.a. Add the pine nuts and cook, stirring from time to time, for 4 to 6 minutes, or until garlic is just turning golden brown around the edges and the pine nuts are toasted and nicely browned.b. Add lemon zest, chile flakes, and flaky salt, and cook for 30 seconds, tossing frequently. Take off heat immediately and pour into a large bowl to stop cooking.

While the lentils cook, chop the fresh herbs.

Add the lentils to the aromatic oil, season with ½ teaspoon kosher salt, black pepper to taste, and toss well. Add the vinegar (starting with 1 tablespoon), 2 tablespoons lemon juice, fresh herbs and toss well to combine.

Now add the arugula and toss together with tongs to just gently wilt. Season the salad with salt and pepper if needed.
1. You can sub green or brown lentils if you can't find these varieties, though the lentils will be softer and won't hold their shape as much. They also take less time to cook, about 15 minutes.
2. If allergic to nuts, use pepitas.
3. A few herb combos I like: mint and parsley; basil and parsley; mint and basil; cilantro and mint. You can leave small leaves whole for variety.
---
Recipe: Sam / Go Vegan Recipes | Photography: Sam