Green beans are fun again thanks to these Charred Green Beans with Herby Lemon Salsa! 
Think of it as a unique and fun side dish that features the best of summer produce. Green beans are stir-fried with garlic until they're tender and charred all over, then topped with a refreshing "salsa" made of macerated shallots, fresh herbs, cherry tomatoes, and lemon. 
Every bite is better than the last. The green beans are savory and tender while the salsa is a refreshing, herbaceous, and slightly sweet flavor bomb. Your summer dinners won't be complete without this side!
Table of Contents:
1. Why this recipe works
2. Ingredient notes
3. Tips for making this recipe
4. Frequently Asked Questions
5. Recipe card with notes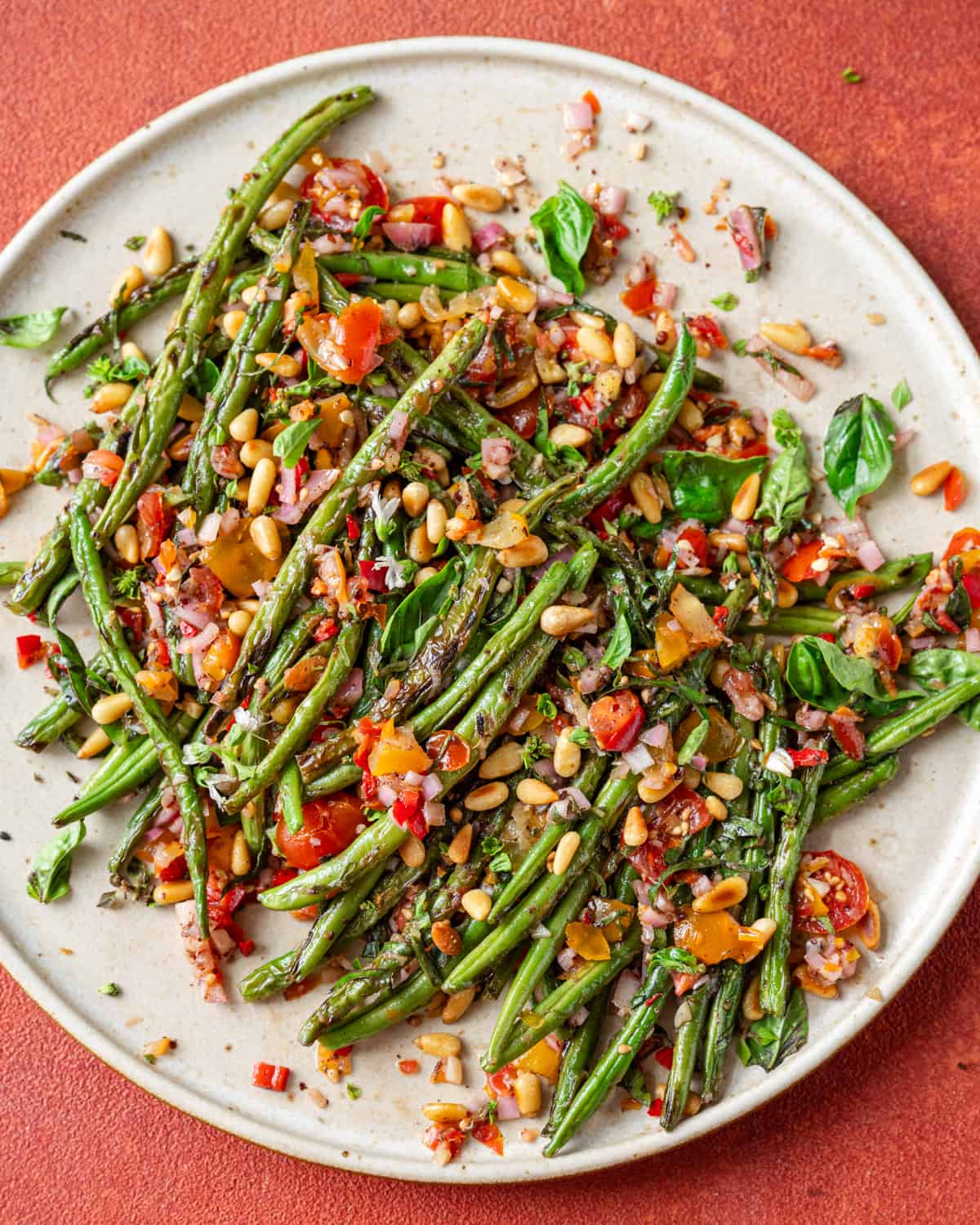 Why this recipe works
Green beans, but with a twist!
You can't go wrong with green beans in summer. They're crisp, juicy, sweet, and go well with anything.
But let's be honest, green beans rarely get an opportunity to truly shine. So it's time to put something more exciting on the table, which is where this charred green beans recipe comes in!
In this over-the-top side dish, fresh green beans are stir-fried in a sizzling hot wok with garlic (similar to how they're prepared in Chinese restaurants). The beans get tender yet still a bit crisp and beautifully browned on the outside. One bite and you'll never settle for boring green beans again!
Impress and delight your tastebuds
To complete these gorgeous charred green beans, they're dressed in a preserved lemon "salsa" that will make your tastebuds dance.
And this is no ordinary salsa. It's a refreshingly herby and umami-packed condiment made with seasonal cherry tomatoes, fresh herbs, preserved lemon, shallots, and chile peppers. Use it on these green beans, then make it again and again to serve with beans or lentils, on this Savory Asparagus Galette, and with even more charred veggies, like broccoli and cauliflower.
If you don't have access to preserved lemons, you can easily swap in lemon zest. 
The perfect blend of summer flavors 
A beautiful blend of summer flavors is married in the lemon salsa. Preserved lemons are a shining star (learn more about them in this post on How to Make and Use Preserved Lemons) because they add a unique umami flavor in addition to their delightful lemony goodness, which only gets better when fresh basil and parsley are added. 
Fresh summer cherry tomatoes give the salsa just the right amount of sweetness, which balances the heat from the chile pepper and the tang from the vinegar.
Ingredient notes
Green beans 
Green beans are the star ingredient of this summer dish. They're snappy, crunchy, have an earthy-sweet flavor, and pair well with savory summer flavors. Fresh green beans are plentiful (and cheap!) during summer, as that's when they're in peak season.
Get your hands on the best beans possible, either from your local farmers market or in bulk at the grocery store. These are typically fresher and sweeter than pre-packaged green beans.
When you're shopping, look for beans with a vibrant green color and smooth pods. Bon Appetit recommends avoiding green beans that are very large, wide, and/or thick because they tend to taste bitter and mealy.
Want to use French green beans (haricot verts)? Go ahead, but cook them for 2 minutes less, as they're more tender than regular green beans.
Cherry tomatoes 
Just like the green beans, you need the best-quality cherry (or grape) tomatoes you can find, as they'll make the salsa taste so much better. They too are in season throughout summer and are easy to find at most grocery stores and farmers markets.
Pro tip: The golden cherry tomatoes, like sungold tomatoes, tend to be the sweetest!
Preserved lemon or lemon zest
It wouldn't be lemon salsa without the lemons! Preserved lemons add a fun, supercharged lemony flavor that will leave your tastebuds wanting more.
If you're not in the habit of making preserved lemons at home or don't want to buy preserved lemons (affiliate link), rest assured, you can just use lemon zest instead and the salsa will still be delicious.
Where to buy: You can buy preserved lemons at specialty shops, Middle Eastern markets, and online. Or make them yourself! 
Substitute: Use an equal amount of lemon zest instead (the zest from about 1 large lemon).
Fresh herbs 
You won't find me without fresh herbs in my fridge, especially in summer. They're at their finest during the hot summer months and this salsa takes full advantage of their extra bright and herbaceous flavors.
I love basil the most in this recipe, as it pairs so great with the cherry tomatoes and green beans and is in peak season. Feel free to get creative and use parsley or dill, or even throw in a little mint. 
Sumac 
Sumac is a popular Middle Eastern spice and one of my favorite ingredients. It's bright, tangy, citrusy, and a little earthy. Some say it adds the tartness of lemon juice without the acidity. I like to use it to macerate the shallots in the salsa and for a lovely tart, fruity flavor.
Where to buy: You can buy sumac at well-stocked grocery stores, spice shops, Middle Eastern markets, and online (affiliate link). 
Substitute: Simply omit the sumac if you can't find it. To replicate its tangy flavor, add a squeeze or two of fresh lemon juice to the salsa once it's ready.
Tips for making this recipe
Mise en place
In other words, prep everything before you start this recipe. Make the salsa, trim the green beans, chop the garlic, and toast the nuts before cooking the green beans. This way, the green beans will still be warm when it's time to eat.
Leave the beans alone
Once they're in the wok, leave the beans alone. Letting them sit, undisturbed, is how they will achieve a gorgeous char on the outside. Only stir them once per minute.
Use a wok if you have one
Because of its curved shape, a wok has a higher, more concentrated heat that's wonderful for charring and searing. It also heats up way faster than a standard pan, helping you get this meal on the table in a hurry!
Don't have a wok? Use a heavy-bottomed skillet you can use over high heat (like a cast iron skillet or stainless steel skillet, not non-stick).
Double the recipe
This crowd-pleasing meal is sure to be a hit at holidays and special events. The salsa already makes a generous amount, so all you need to do is cook more green beans and garlic (up to 24 ounces of beans) to double the recipe.
The best way to cook a larger batch of green beans is in two separate batches. This way, they'll char and crisp in the pan instead of steaming.
Repurpose the salsa
This recipe makes a fair amount of lemon herb salsa, allowing you to enjoy it in a ton of other ways! These are some of our ways to indulge:
Despite it being far from traditional Mexican-style salsa, the lemon salsa makes for a fantastic snack to enjoy with tortilla chips! 
Spoon it over a bowl of rice and lentils for a refreshing twist.
Stir some into a vegan yogurt sauce to spoon over beans or use as a base for these 20-Minute Broccoli and Za'atar Chickpeas.
Mix it with vegan mayo to use as a creamy and herby sandwich spread. 
Frequently Asked Questions
What can I use instead of pine nuts?
Roasted or toasted almonds or pistachios work great! Just remember to chop them after toasting.
If you have an aversion or allergy to all nuts, use toasted sunflower seeds instead.
I can't find sumac or preserved lemons. What can I use instead?
Substitute 1 tablespoon of lemon zest for the preserved lemons. The sumac can also be omitted if you can't find it. Once the salsa is ready, give it a taste, then add lemon juice if you want some tang (sumac is tangy).
How long does this dish last? How should I store it?
If you plan on keeping the leftovers for later, I recommend storing the charred green beans and salsa in separate airtight containers. They'll both stay fresh in the fridge for up to 3 days. You'll want to reheat the green beans in a wok or frying pan to warm and drain the salsa of any accumulated liquid.
If you love these charred green beans with lemon salsa, please leave a rating and review below! It's always much appreciated :) And tag me on Instagram – I love hearing your feedback.
These over-the-top Charred Green Beans with Herby Lemon Salsa will delight your tastebuds! Charred and blistered green beans are the star of the show, complimented by a refreshing, gourmet, yet simple lemon salsa on top. It's a unique side dish that celebrates summer produce!
Mix together the shallots and Fresno pepper with the sumac, vinegar, and a pinch of salt in a small bowl. Stir very well to combine, and allow to rest for at least 15 minutes, or while you prep everything else, stirring once or twice.

Add the cherry tomatoes to a food processor and pulse several times until chopped but not pureed. Pour the tomatoes over a strainer, sprinkle with a generous pinch of salt, and massage the salt into the tomatoes with your hands. Allow the tomatoes to rest and drain while prep everything else.

While you wait, do all the other prep. Mince the preserved lemon peel. Sliver the basil. Trim the ends of the green beans (if any beans are very large, cut in half). Finely chop the garlic. Toast the pine nuts.

a. To toast pine nuts, heat a dry frying pan over medium heat. Once hot, add the pine nuts and stir or shake the pan from time to time, for 3 to 5 minutes, or until toasty and golden brown.

In a bowl, combine the strained tomatoes, macerated shallots, preserved lemon peel, basil, parsley, and olive oil. Season with flaky sea salt and pepper to taste, and toss to combine.

Make the green beans. Heat a wok or large, sturdy-bottomed sauté pan over high heat (see Note 5). Once you start to see wisps of smoke, then add the high-heat oil. Then add the green beans with a 1/2 teaspoon kosher salt. Spread out in a single layer as much as possible and cook undisturbed for 1 minute, or until some beans start to blister.

a. Cook for a total of 4 to 5 minutes, tossing only every 1 minute to allow charring. When the beans are almost done, add the garlic. Stir fry for 30 seconds, stirring constantly to prevent burning. Take off the heat. Transfer to a serving bowl.

Spoon the salsa over the beans and scatter on the pine nuts. Season to taste with salt and pepper.
If you can't find Fresno peppers, use a jalapeño (they're not as fruity but work fine and have a similar heat level). For mild heat, remove the membranes and seeds first. 
If you don't have sumac, omit it. When it's time to serve, sprinkle some lemon juice on top to taste (for that tart flavor).
You can cook more green beans (up to 24 ounces), but you'll need to cook the beans in separate batches.
If allergic to nuts, you can use toasted/roasted sunflower seeds or pepitas. 
If using a wok, wait to add the oil until you wisps of smoke (that prevents sticking). If you don't have a wok, use your largest sturdy sauté pan.
---